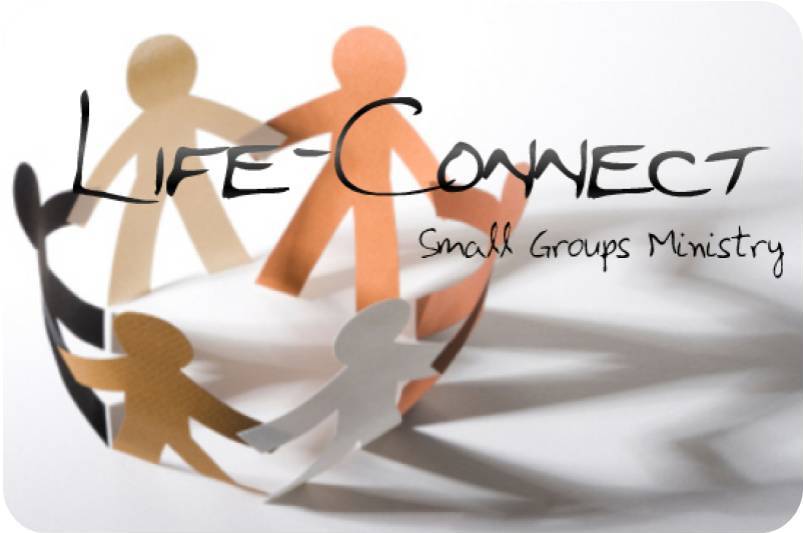 Welcome to the LifeConnect Small Groups Ministry section!

It is our belief that the most natural way people find friends is around something they share in common; an interest, a hobby, a goal or task, a stage of life, a common experience, or a common need. Because of this belief, we have developed and implemented LifeConnect Small Groups Ministries.

"LifeConnect" is a small group ministry focused on fellowship and the building of stronger relationships here at Abundant Life Tabernacle, as well as those in our community. These small groups will foster prayer, intimate worship, discipleship, evangelism, and ministry to the community. Each group is led by equipped lay-leaders who receive on-going support and oversight from the LifeConnect Group Director and Pastor.

We would love to see you get plugged in and discover LifeConnect for yourself. Below, you will find the current Small Groups available through LifeConnect.

If you have any questions, please feel free to contact us at lifeconnect@abundantlifetabernacle.com

Fall Session LifeConnect Groups:


· Becoming One - A fellowship for married or engaged couples, designed to build and strengthen marriages. Some sessions are approved study for groups, others will be fellowship and activity based. This is a great time to get acquainted with other couples or to just have a date night, out with your spouse.

-Leader: Heidi Ewing

-Childcare Provided: No

-Requirements: Married or engaged couples.

· Brother's Keeper - A group designed specifically for men and their spiritual growth. Brother's Keeper is intent of helping men become and remain godly. It will meet weekly (See leader for schedule) for prayer, study, fellowship and, most of all, spiritual accountability.

-Leaders: Dean Pace and Dale Perry

-Childcare Provided: No

-Requirement: All males are welcome. Some gatherings may be for adult males (Men) only.

· Be Healed - Is a new group for Fall semester, designed to teach and equip believers with scripture, encourage their faith, and to help them create an atmosphere in their lives, that is conducive to miracles of healing. It will meet weekly (See leader for schedule).

-Leader: Kathryn Zajack

-Childcare Provided: No

-Requirements: 14 years old or older

· Chosen Generation - Appearing as a brand new LifeConnect group for fall, Chosen Generation was previously a departmental ministry. While the focus was the same, accountability, activities and fellowship, the small group format is new. Every other week college age adults will meet for an activity, fellowship and to urge one another close to Christ. These activities may range from a bonfire to a movie, or a night of worship to sharing a study over a cup of Starbucks. But in each activity God will be glorified and relationships will grow.

-Leaders: Matt & Dawn Winemiller

-Childcare Provided: No

-Requirements: College age adults (Age limits will be semi-flexible)

The M.A.C Group - (Ministry Advancement Classes) Group is for those new to, or seeking to advance in, ministry,

· -Leader: Pastor Jerry Laudermilk

-By Pastoral invite only. See Pastor for more information.


FAQ:

Q: What is an 'affinity' group?

A: An affinity group is a group of people who meet for fellowship, or connection, around a common interest. In this case our primary common interest is Christ, then secondly it might be: prayer, evangelism, community service, books, fishing, men's issues, quilting, and the list goes on and on.

Q: Where will we be meeting?

A: It could be just about anywhere. Ask the leader of the group you choose. It may be at the church facility, or in a home, or at the park. As Life-Connect groups develop it is more likely to be somewhere in the community than at our facility. We are the church. Let's take Christ to the streets!

Q: How often will my group meet?

A: Again, ask the leader. Some will meet every week. Some will only meet once a month.

Q: Will child care be available?

A: Some groups may allow you to bring your children, some will not, ask the leader what the protocol is for your group of choice. But in answer to the question, child care will be your own responsibility at this stage.

Q: Can I lead a Life-Connect Group?

A: You may fill out a "Life-Connect New Leader Application" and "Life-Connect Group Description Form." All applications and group descriptions will be reviewed by the Pastor and the Life-Connect Group Director. Those approved, will be required to attend the quarterly Life-Connect Training/Equipping day and agree to the guidelines set forth by Pastoral leadership.